Clausing Colchester 15
$

8500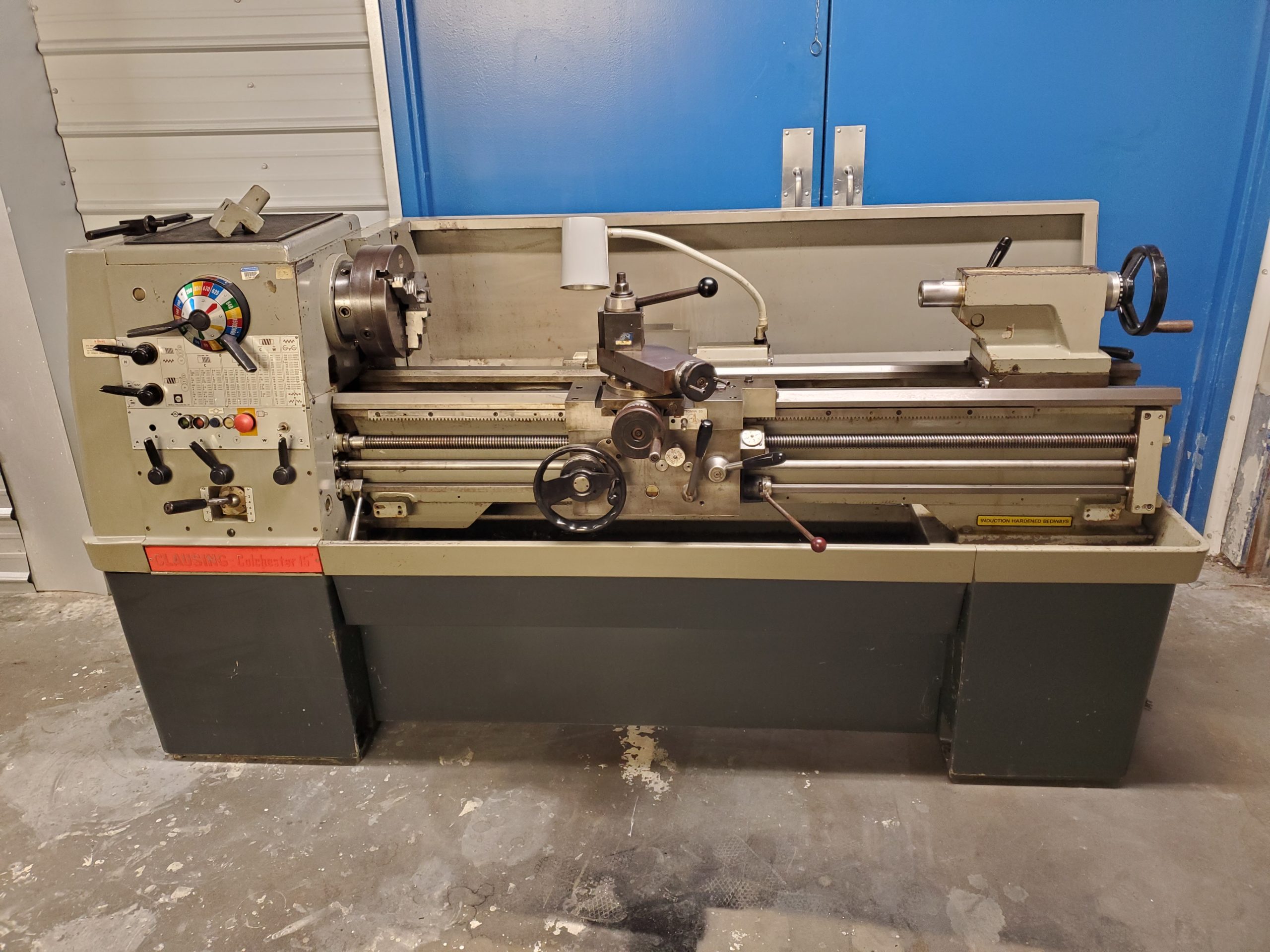 For Sale ( Huger South Carolina)
Clausing Colchester Lathe 15″x 50″VERY GOOD Condition!
NEW IN 1988
Lathe has just been serviced , including
Headstock ,Quick Change Feedbox and Carriage have been drain , flushed and filled with New Oil
Cross Slide has been disassembled cleaned and verified oiling properly.( see pictures cross slide still has original machine marks Like NEW) Backlash on all feed screws are .005″ or less
New Drive belts
New wipers for Ways on carrige and Tailstock
Demo Video

Lathe is powered and can be tested
Will load on truck or trailer at no charge.
EQUIPPED WITH
INCH/METRIC THREADING
10″ 3-JAW CHUCK
TAPER ATTACHMENT
TAILSTOCK with 4 MT
COOLANT SYSTEM
Factory Work Light
THREAD CHASING DIAL
STEADY REST
ELECTRIC SPINDLE BRAKE
Description
SPECIFICATIONS
CAPACITIES
SWING OVER BED: 15-1/4″
SWING OVER SADDLE WAYS: 15-1/4″
SWING OVER CROSS SLIDE: 9-1/2″
BAR CAPACITY THRU SPINDLE: 2-1/8″
DISTANCE BETWEEN CENTERS: 50″
HEADSTOCK
SPINDLE NOSE: 6″ D-1 CAMLOCK
HOLE THRU SPINDLE: 2-3/16″
SPINDLE CENTER: 4 MT
SPINDLE BEARINGS: GAMET PRECISION
SPEEDS (16): 25 -2000 RPM
THREADS & FEEDS
US STANDARD THREADS (45): 2 – 72 TPI
METRIC THREADS (39): .2 – 14 MM
LONGITUDINAL FEEDS (45): .0015″ – .040″
CROSS FEEDS: .00075″ – .020″
CARRIAGE
LEADSCREW DIAMETER: 1-1/4 – 4 ACME
FEED ROD DIAMETER: 7/8″
LENGTH ON BED: 17″
WIDTH OF BRIDGE: 7-3/4″
CROSS SLIDE: 21-1/4″ X 6″ WIDE
CROSS SLIDE TRAVEL: 9-1/4″
CROSS FEED DIAL (E/M STD.): DIRECT READING
COMPOUND REST TRAVEL: 4-3/4″
TOOL BLOCK, CAPACITY: 2″
CROSS, COMPOUND SLIDE GIBS: TAPERED
TAILSTOCK
SPINDLE DIAMETER: 2-5/16″
CENTER: 4 MT
SPINDLE TRAVEL: 6-1/8″
SPINDLE GRADUATIONS: 0-5″ BY 1/16″
BED
WIDTH: 11″
DEPTH AT CENTER: 10-1/2″
WAYS, INDUCTION HARDENED: 2V, 2 FLAT
GENERAL
DIMENSIONS: 96″ LR X 38″ FB X 49″ H
Clausing Colchester 15
$

8500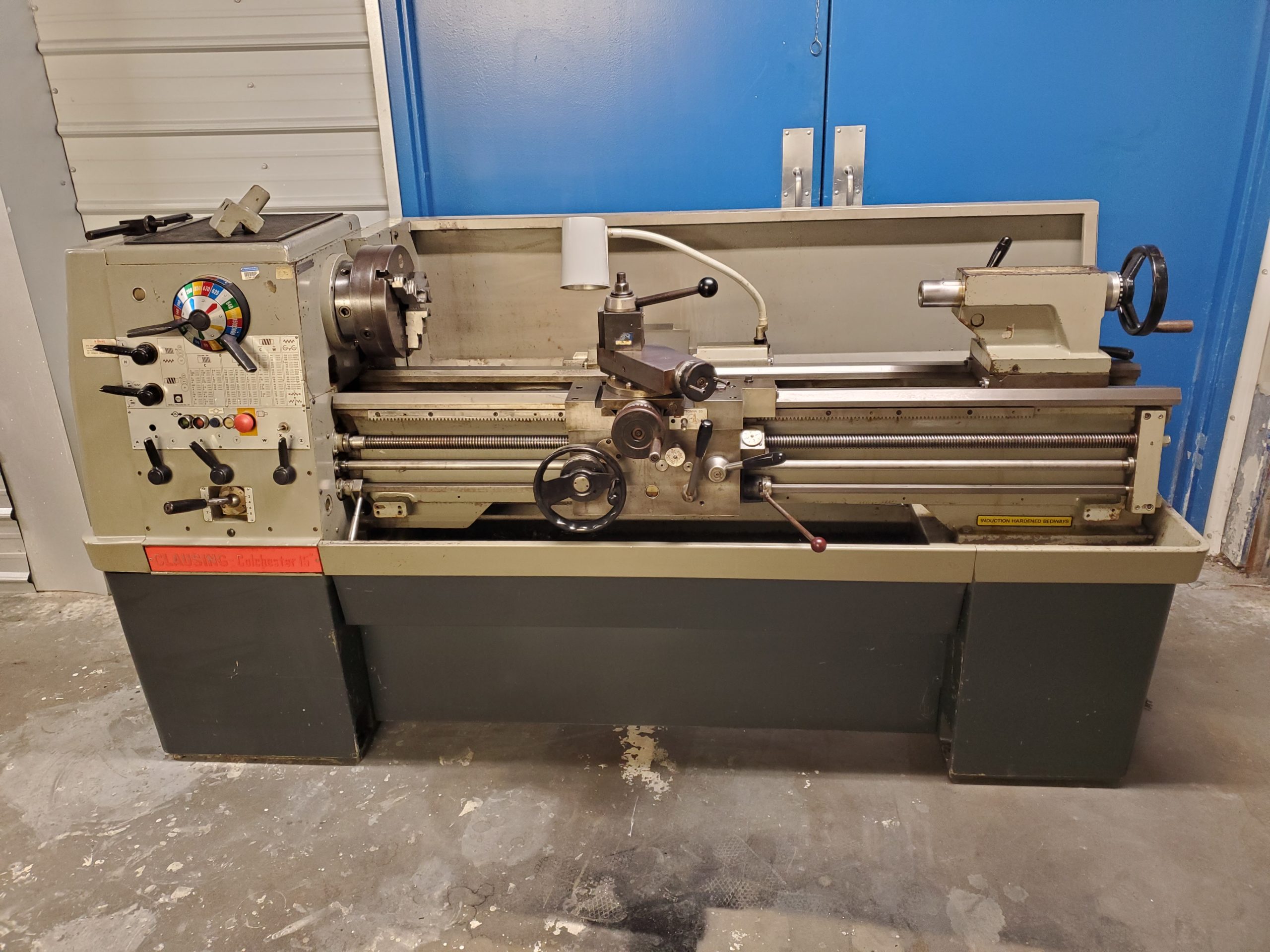 For Sale ( Huger South Carolina)
Clausing Colchester Lathe 15″x 50″VERY GOOD Condition!
NEW IN 1988
Lathe has just been serviced , including
Headstock ,Quick Change Feedbox and Carriage have been drain , flushed and filled with New Oil
Cross Slide has been disassembled cleaned and verified oiling properly.( see pictures cross slide still has original machine marks Like NEW) Backlash on all feed screws are .005″ or less
New Drive belts
New wipers for Ways on carrige and Tailstock
Demo Video

Lathe is powered and can be tested
Will load on truck or trailer at no charge.
EQUIPPED WITH
INCH/METRIC THREADING
10″ 3-JAW CHUCK
TAPER ATTACHMENT
TAILSTOCK with 4 MT
COOLANT SYSTEM
Factory Work Light
THREAD CHASING DIAL
STEADY REST
ELECTRIC SPINDLE BRAKE
Description
SPECIFICATIONS
CAPACITIES
SWING OVER BED: 15-1/4″
SWING OVER SADDLE WAYS: 15-1/4″
SWING OVER CROSS SLIDE: 9-1/2″
BAR CAPACITY THRU SPINDLE: 2-1/8″
DISTANCE BETWEEN CENTERS: 50″
HEADSTOCK
SPINDLE NOSE: 6″ D-1 CAMLOCK
HOLE THRU SPINDLE: 2-3/16″
SPINDLE CENTER: 4 MT
SPINDLE BEARINGS: GAMET PRECISION
SPEEDS (16): 25 -2000 RPM
THREADS & FEEDS
US STANDARD THREADS (45): 2 – 72 TPI
METRIC THREADS (39): .2 – 14 MM
LONGITUDINAL FEEDS (45): .0015″ – .040″
CROSS FEEDS: .00075″ – .020″
CARRIAGE
LEADSCREW DIAMETER: 1-1/4 – 4 ACME
FEED ROD DIAMETER: 7/8″
LENGTH ON BED: 17″
WIDTH OF BRIDGE: 7-3/4″
CROSS SLIDE: 21-1/4″ X 6″ WIDE
CROSS SLIDE TRAVEL: 9-1/4″
CROSS FEED DIAL (E/M STD.): DIRECT READING
COMPOUND REST TRAVEL: 4-3/4″
TOOL BLOCK, CAPACITY: 2″
CROSS, COMPOUND SLIDE GIBS: TAPERED
TAILSTOCK
SPINDLE DIAMETER: 2-5/16″
CENTER: 4 MT
SPINDLE TRAVEL: 6-1/8″
SPINDLE GRADUATIONS: 0-5″ BY 1/16″
BED
WIDTH: 11″
DEPTH AT CENTER: 10-1/2″
WAYS, INDUCTION HARDENED: 2V, 2 FLAT
GENERAL
DIMENSIONS: 96″ LR X 38″ FB X 49″ H